Wouldn't it be wonderful if you could flip a switch when you climbed into bed at night and instantly fall asleep? No more tossing and turning over that nasty problem at the office or the credit card bill that came in the mail or your child's less than stellar report card. Flick a switch and…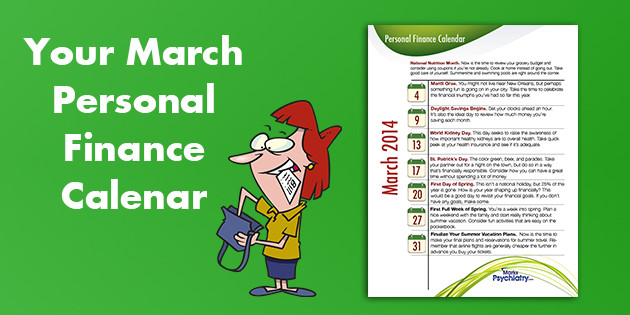 Here is your personal finance calendar for March. Click on the image to download.
Everyone has a little trouble sleeping now and then. A bad day at work, financial problems, a bad cold, trouble with the kids, a pulled muscle – the list of things that can keep us up at night is endless. Usually sleep disruptions are temporary, fading as problems are resolved and life returns to normal.…
Smartphones make our lives undeniably more convenient, but their addictive pull can also interfere with our body's circadian rhythm and prevent us from getting a good night's sleep. When you're plugged in, you are constantly available to family, friends and work colleagues. There is no down time. Even when you are not actually checking your…
As deadlines loom, do you rely on a stress-fueled adrenaline rush to sharpen your wits and give you the burst of energy you need to complete the project? If this has become your modus operandi, you could be addicted to stress, relying on your body's chemical response to stress to push productivity. Stress is a…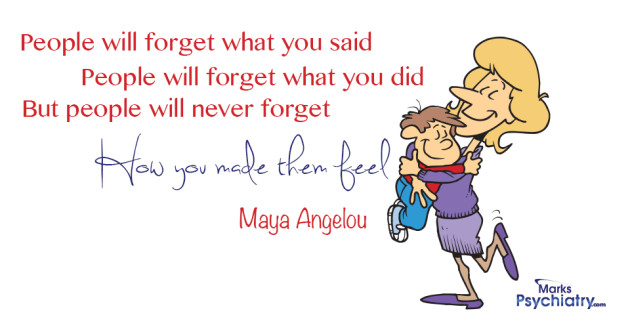 I love this quote by Maya Angelou because it's the basis for a point I often make to people with strong opinions who have conflict with people. I say to them – you can be the smartest person on the planet and everything you're saying is exactly right, but if in the process of…
A fascinating new study suggests that thinking you got a good night's sleep may be as restful as actually getting your eight hours of shuteye. In a small-scale Colorado College study published in the Journal of Experimental Psychology, researchers found that what they termed "placebo sleep" had the power to boost performance. Independent of the…
A recent study diseases the pros and cons of caffeine based on recent studies.  It seems like the pros outweigh the cons from this study.